Shutdown (Amstrad CPC, 1988 Video Images)
As revealed in Issue 2 of Colour Personal Computing, we are now proud to present to you the download of Shutdown, a game once thought lost. But thanks to the efforts of one of the authors, Dean Hickingbottom, it has now been recovered for Amstrad CPC users to enjoy.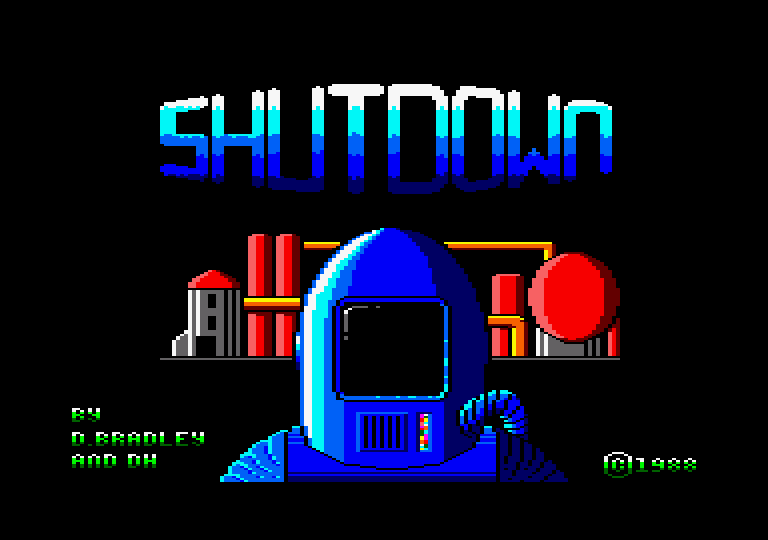 You can read the full story behind the game, its fate, and its recovery in Issue 2 of Colour Personal Computing - available now.
Click
here
to download a .DSK image of the game for use in emulators or to transfer to a real CPC.
Loading the game:

To run the game, insert the disk/disk image and type run"basic" from the BASIC prompt.
Controls:

Press SPACE to start the game.
Q,A,O,P is Left, Right, Up, Down respectively or alternatively you can use a Joystick.
'H' pauses the game.
The aim of the game:
You assume the role of ROGER, tasked with saving the island of Fort Neon from impending doom. The aim is to prevent the meltdown of a nuclear reactor, in a race against time. As if dealing with a reactor meltdown, with the core temperature gradually rising wasn't enough, you must also deal with a limited supply of air. There are locked colour-code gates around the map, so you need to collect the appropriate coloured key to open them. You can carry up to three items in your pocket at a time.